Mississippi Legislators Admit They're Just Lazy Idiots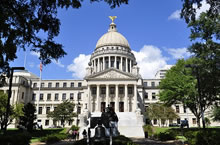 Recently, there was news that a few bold lawmakers in Mississippi had sneakily snuck a revised version of their Fantasy Sports-regulation bill past the state legislature, stripping away actual sports gambling prohibitions. Provided the PASPA ever got overturned (in congress or in court), the state would be one of the first states out of the gate to offer a full casino-based suite of Mississippi sports betting.
While that premise still seems true enough, the hoodwinked legislators aren't taking it well, flailing about with excuses and outrage that do little else but underscore the fact that these people neither read the entire bill in question nor understood the parts they did read. Take this quote from House Judiciary B Chair Andy Gipson (R, Braxton):
If the reports are true that our laws would legalize sports betting/bookmaking in Mississippi upon a reversal of federal law…
If the reports are true? If? Reports? It sounds like Mr. Gipson doesn't understand anything about the bill he just slapped his name on. Further, it sounds like he's supportive of the notion that it's the media's job to tell him what's in the proposed law (after he votes on it, of course) because he's either unwilling to read it himself or incapable of comprehending whatever portions he skimmed over with his morning coffee.
He goes on: "I believe we in the Legislature have an obligation to seriously consider the public policy implications and risks."
With all due respect (which is none), apparently you don't.
At any rate, this leech is calling for there to be a new debate next year on a law already passed, and instead of waiting for the expected early-2018 Supreme Court ruling on the constitutionality and legitimacy of PASPA, Mississippi state congresscritters want to clutter up their expensive January session with this redundant nonsense. Representative Randy Boyd (R, Mantachie) is one of them, and he has a strong argument for why such legislation needs to be curtailed. Explains Boyd, "I am not a fan of gambling so maybe we should revisit it."
Never mind the law (that he just helped pass), never mind the rights of the people, never mind a free market – Boyd doesn't like his neighbor's hobby, so it's got to go.
Even bill spokesperson and chief sponsor Scott DeLano (R, Biloxi) agrees that the law needs revisiting in light of the "revelations," although I fail to understand how one can be blindsided by the obvious truths in proposals of their own design. Sure, this could be DeLano extending an olive branch to his colleagues after humiliating them on the national stage, but as a taxpayer, I'd rather be on the hook for a couple of whoopee cushions or an envelope of sneezing powder.
We might as well treat these people like the clowns they are.

Best Mississippi Sports Betting Sites - 100% Trusted + Safe
| | | | | |
| --- | --- | --- | --- | --- |
| | | 50% Up To $250 | VISA + Wire Transfer | |
| | | 50% Up To $1,000 | VISA, Bitcoin, Cash Wire | |
| | | 50% New Member Bonus! | VISA, Bitcoin | |
| | | 100% Up To $300 | VISA, Bitcoin | |
| | | 50% Up To $1,000 | Bitcoin, Wire Xfer, VISA | |